A CONNECTED, RESILIENT COMMUNITY BUILT TO WORLD-LEADING STANDARDS FOR SUSTAINABLE LIVING.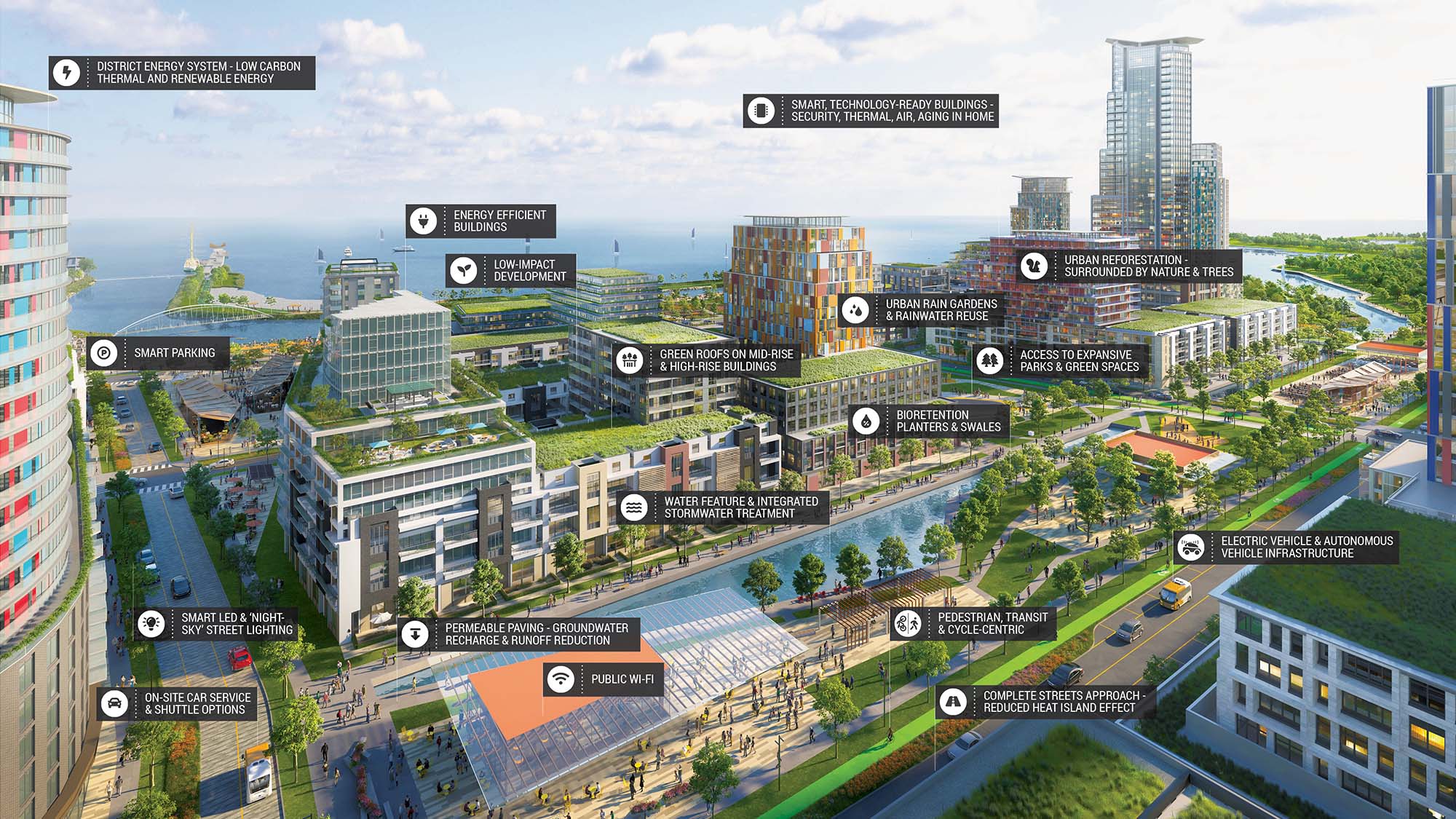 REINVENTING HOW WE LIVE
---
Sustainability defined by Place, Prosperity, Health and Wellbeing, Connectivity, Living Infrastructure & Resource Regeneration
A dynamic Sustainability Centre driving global change through cutting-edge research, accelerating innovations and emerging technologies, and fostering collaboration
Low-impact living—district energy, green roofs, rainwater reuse, electric vehicle infrastructure
A design to meet national, regional, and municipal emissions and solid-waste diversion goals
A healthier human experience with cleaner air, walkable amenities, and a closer-to-nature lifestyle
Fresh air, green parks, and clean water, this is not the only beauty you encounter here. The buildings of Lakeview Village where you live and work will protect your future, with an integrated, forward-thinking design.
Buildings are powered from district energy, a low-carbon renewable energy system. Green roofs reduce demand for air conditioning, while rain gardens and stormwater systems optimize water reuse. Transit and autonomous shuttles enable car-free mobility and aging in place. All of this is anchored by the Centre for Sustainability, facilitating new environmental solutions to further improve the way we live.
Your home is a living model for the future of sustainable communities.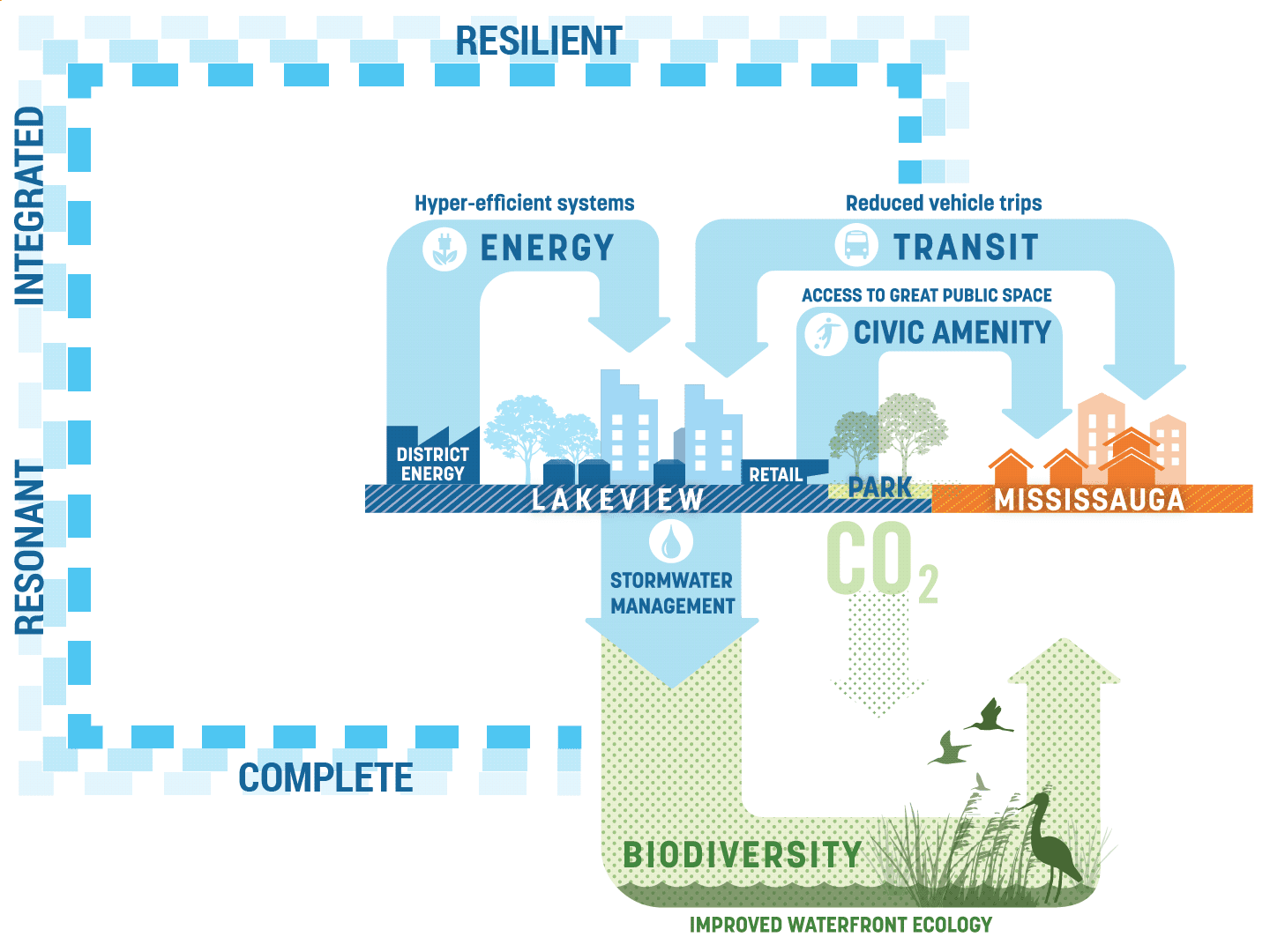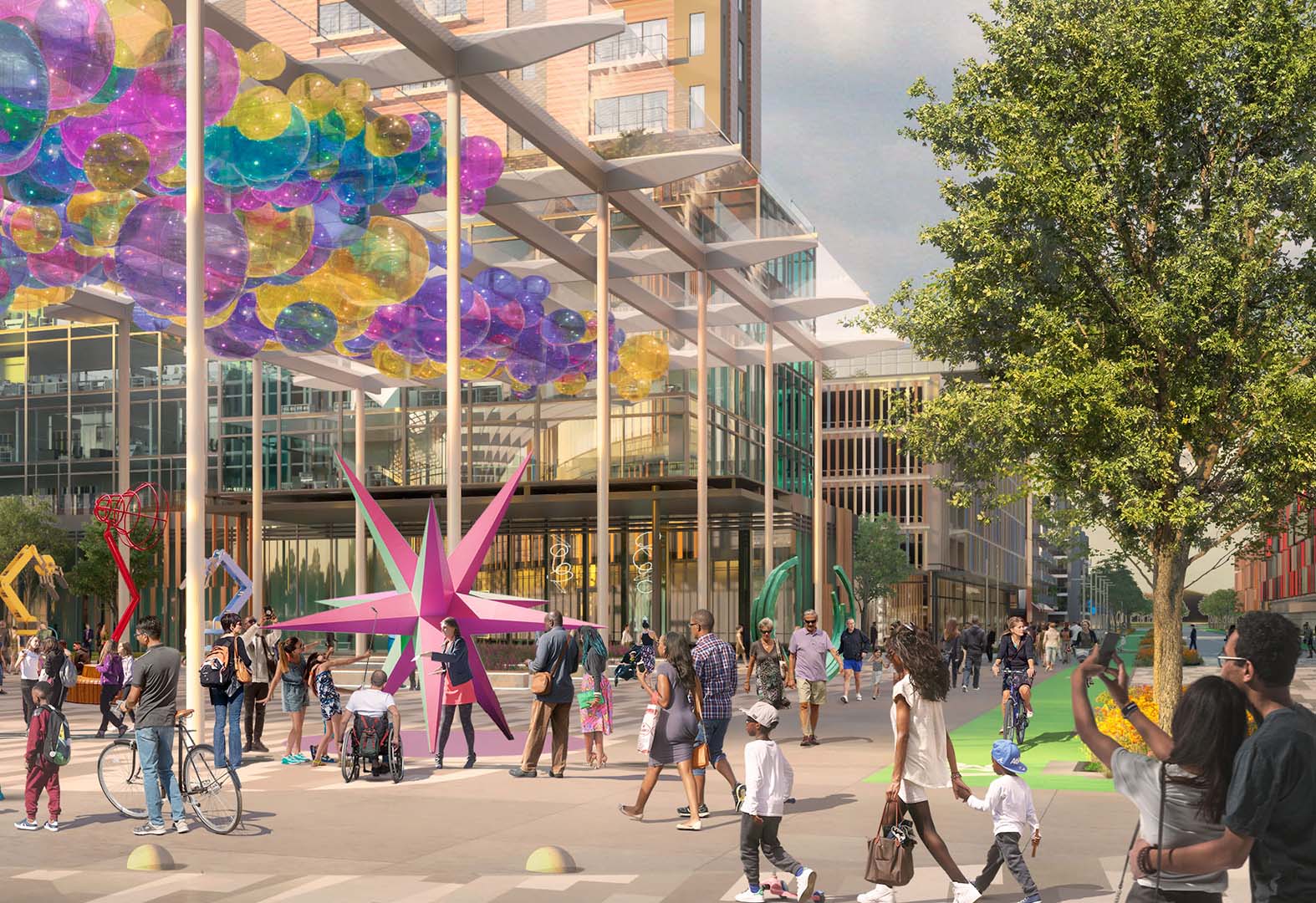 Arts, Culture & Place
FOSTERING CULTURE & COMMUNITY
Culture shapes our identity, and is a powerful driver to creating thriving communities. Cultural activities and artistic platforms celebrate the diversity of our city and provide awareness and education surrounding the past, the present, and the future. They connect people to place and to one another – regardless of their origins, values or language – to establish a sense of community and greater understanding.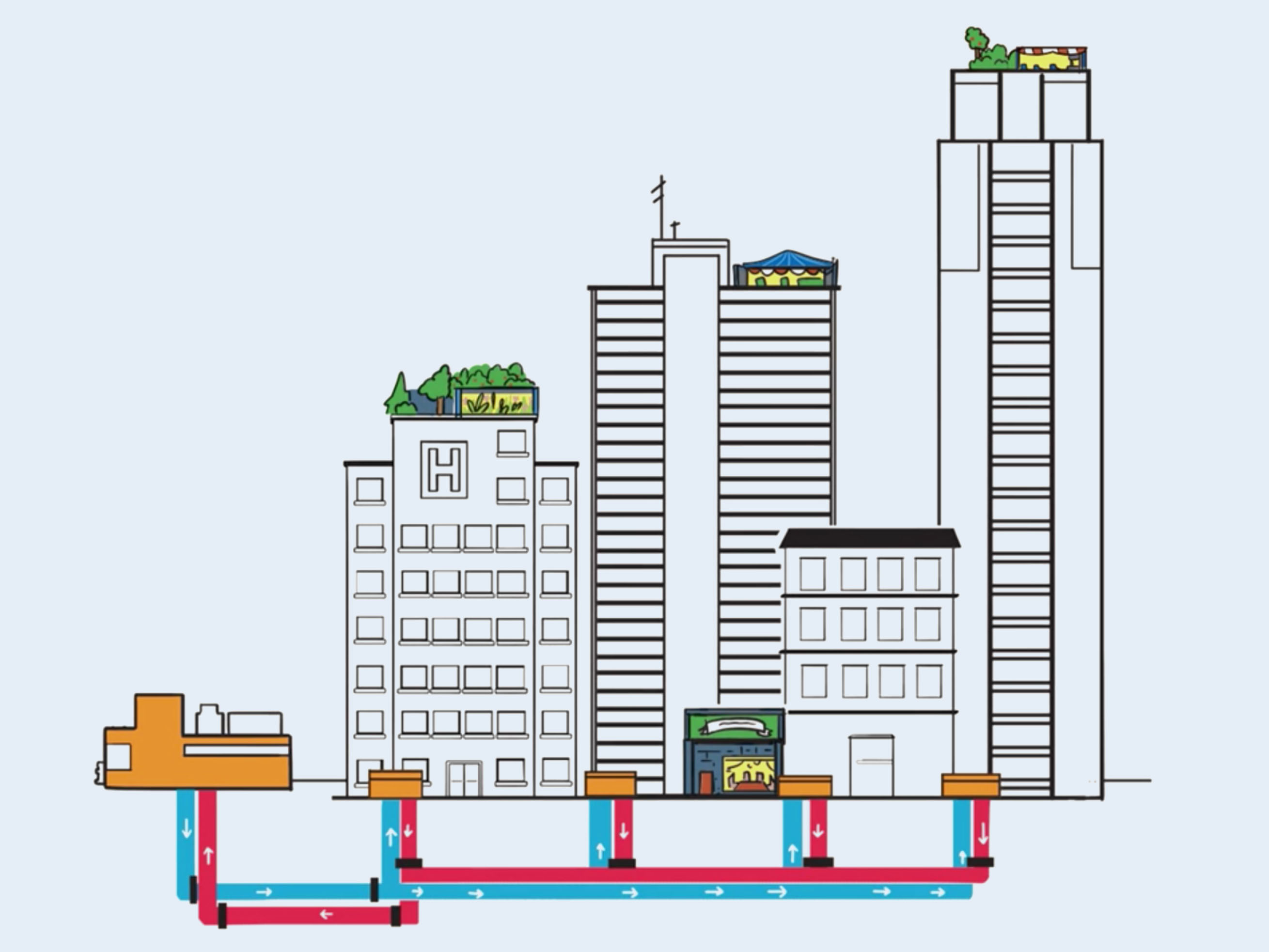 District Energy System
---
Building Efficiency: Reduces required space for HVAC equipment, freeing up roof top and mechanical room for other uses

Education: Potential to incorporate visitor education centre and/or living lab

Innovation: Adjacent G.E. Booth (Lakeview) Wastewater Treatment Facility effluent to potentially be used as heat source/sink

Low Carbon: Effective, low carbon, reliable distribution of thermal energy (heating, cooling, domestic hot water)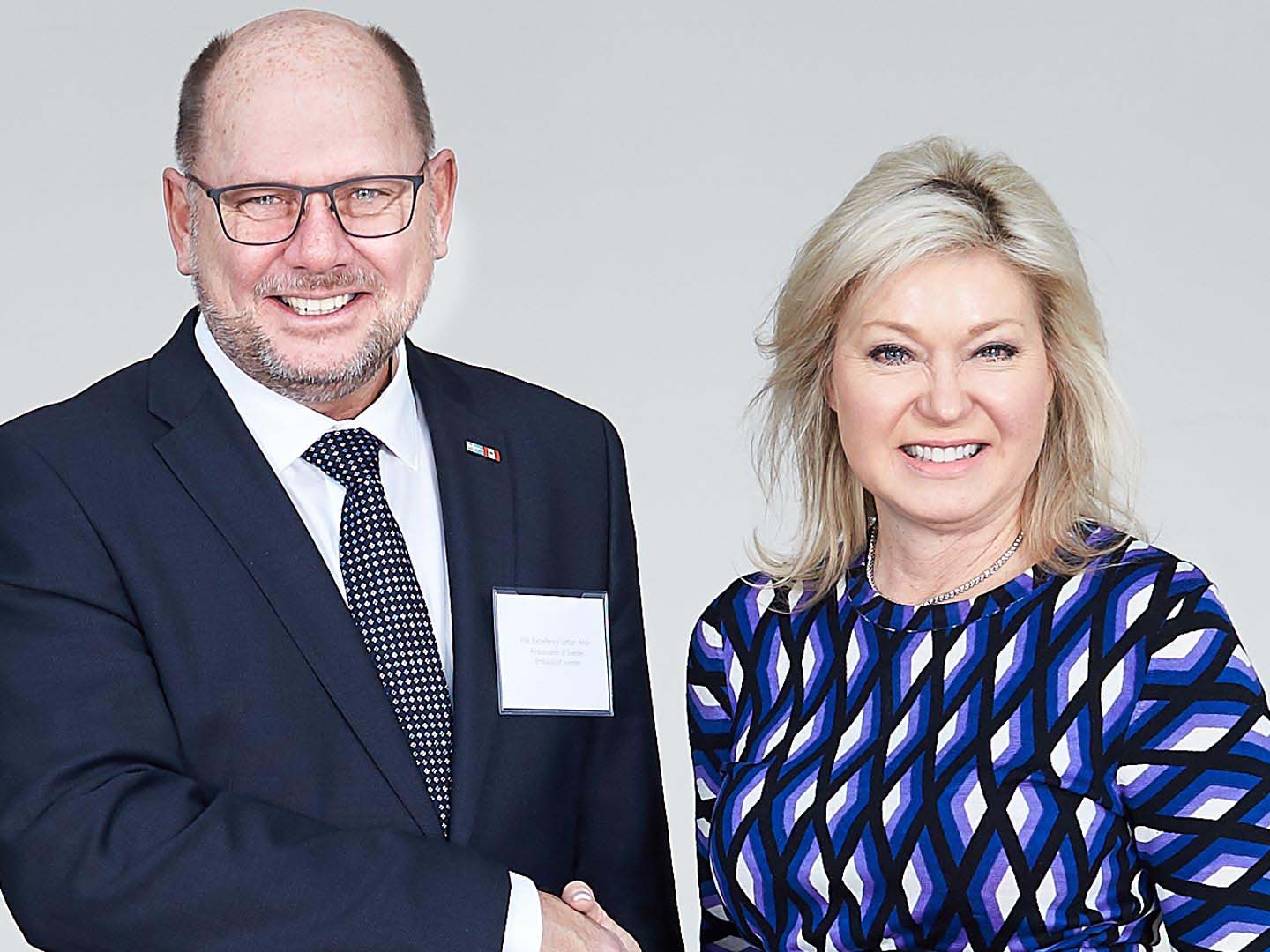 LAKEVIEW VILLAGE
ADVANCING MISSISSAUGA'S ECONOMIC & SOCIAL RESILIENCE
In 2020, Business Sweden, the City of Mississauga, Lakeview Community Partners Limited, the Embassy of Sweden, the Region of Peel and global leaders in the sustainability sector came together to advance innovative and smart solutions for building future-ready cities.
Learn More
NATURE FIRST: THE RESTORATION OF SERSON CREEK
---
Serson Creek is undergoing a major restoration effort to allow this underground piped water course to see the daylight, while connecting it with Lake Ontario and the future Jim Tovey Lakeview Conservation Area. This revitalization project will re-establish a vital wildlife corridor, allow fish to access the creek for the first time in decades, and provide trails for visitors to experience nature.
Learn More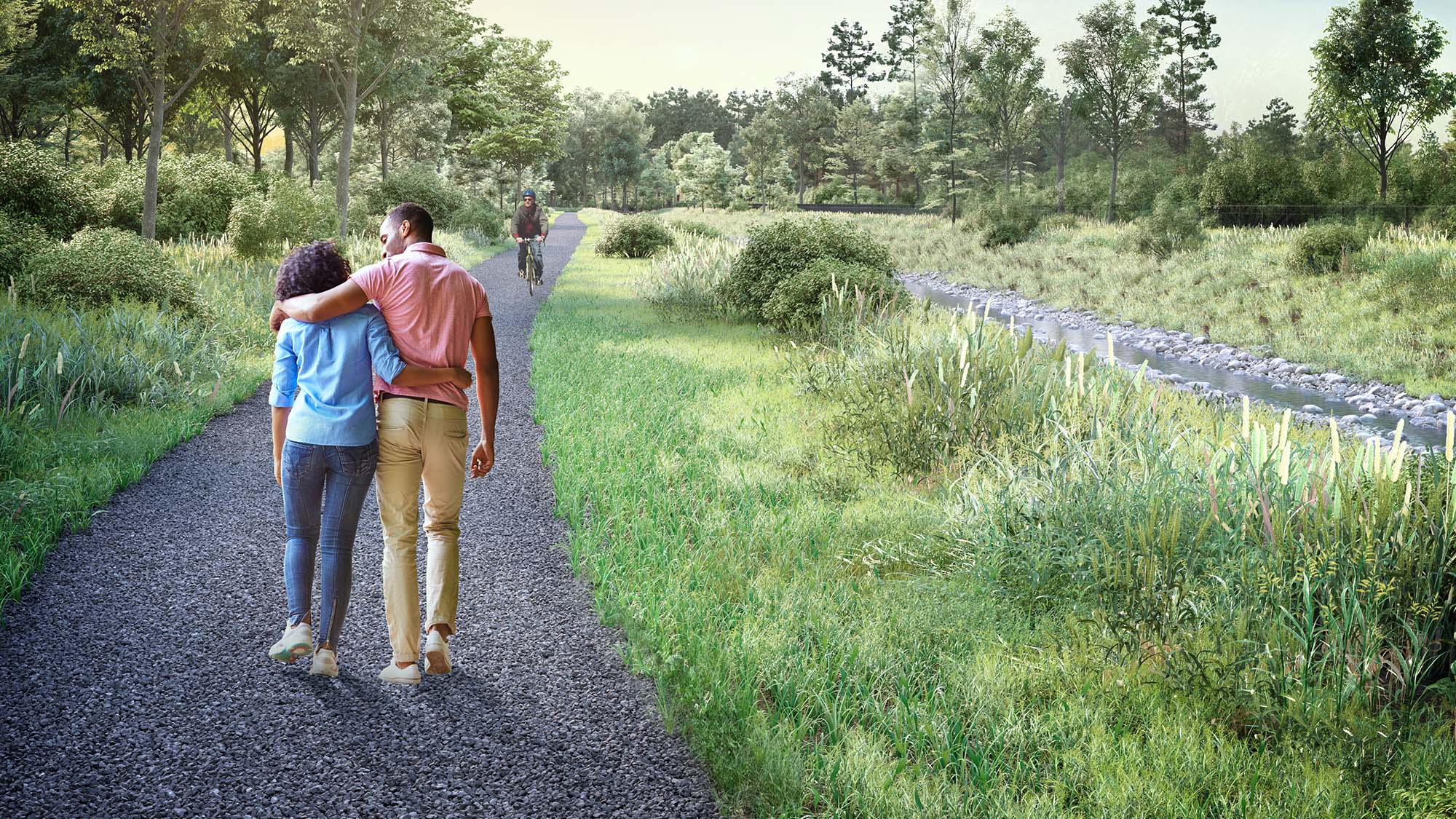 STAY UPDATED ON RESIDENTIAL NEWS